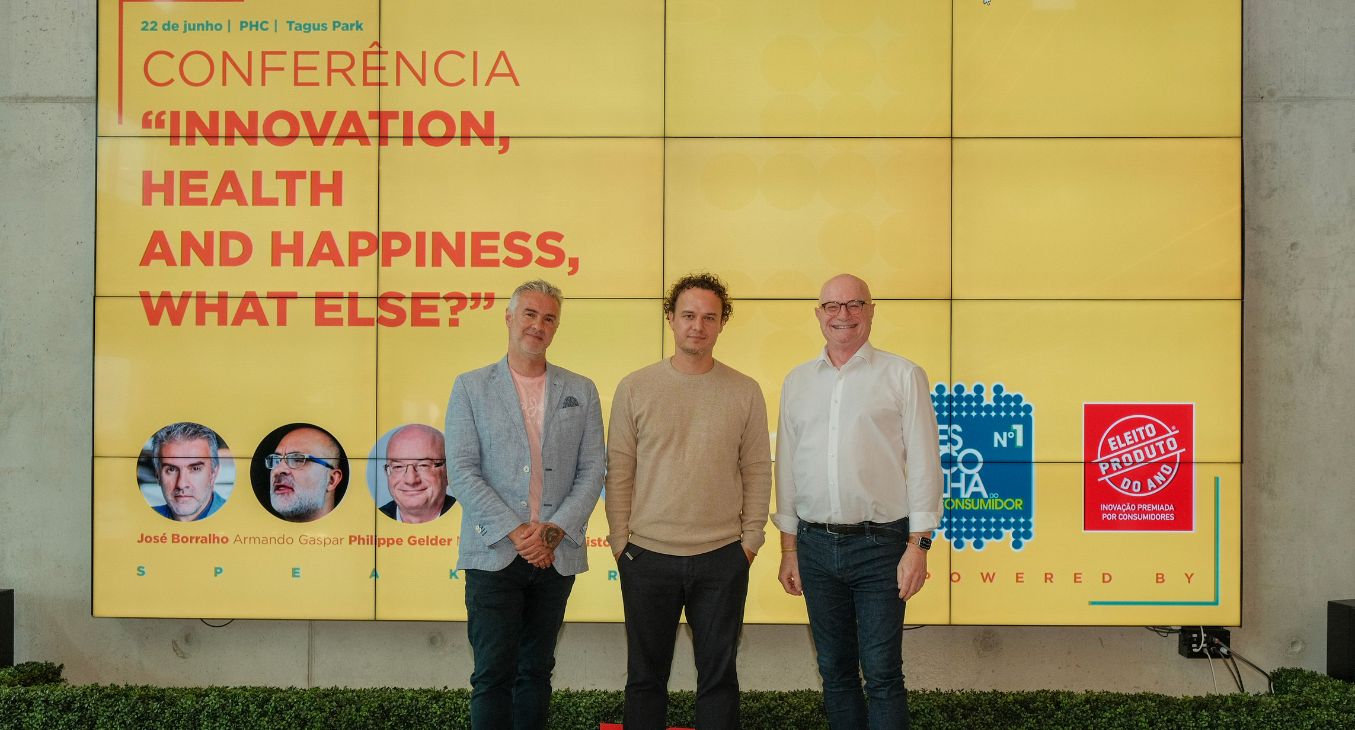 "Innovation, Health and Happiness, what else?"
Innovation, Health and Happiness, what else?", foi a conferência promovida pela Escolha do Consumidor e Produto do Ano, onde se descobriu, numa abordagem assertiva, os segredos das escolhas que tornam mais felizes as empresas, marcas e, consequentemente, os seus clientes.
Os oradores partilharam, numa apresentação ilustrativa e esclarecedora a preocupação, em primeiro lugar, pela saúde e pela felicidade das pessoas e, em segundo, pela produtividade que essa combinação aporta ao desenvolvimento de marcas e empresas.
Foi no decorrer deste evento, que estiveram presentes, para além do CEO da Escolha do Consumidor e da Product of the Year Portugal e da ConsumerChoice, José Borralho, Philippe Gelder, President & CEO Voted Product of the Year Worldwide, Armando Gaspar, Senior Technician Research Unit at PHC Software, Miguel Capelão, Chief Culture Officer at PHC Software e Christophe Jauquet, keynote speaker orador e autor, que trouxeram luz sobre os novos comportamentos do consumidor.
Philippe Gelder, enunciou dois elementos essenciais para a mudança e crescimento: a inovação e a catalisação. Aponta a inovação como sinónimo de renovação ou de melhoramento de um processo. A catalisação pode ser entendida como um estímulo ou uma reação "explosiva", que irá acelerar e implementar o processo de mudança. Nesta junção, cria-se o espaço para atingir os objetivos e executar decisões no processo de modernização de um negócio.
Os consumidores, atualmente, estão menos ligados às marcas, dada a enorme oferta e dada a necessidade de experimentar e conhecer novos produtos, diferentes e inovadores.
Os consumidores atuais têm mais preocupações com a inclusão, diversidade e sustentabilidade. Estes são temas que ganharam espaço na agenda diária dos consumidores.
Depois da Pandemia mundial, os cuidados de saúde (não apenas física, mas acima de tudo, mental) ganharam peso nas preocupações fundamentais dos consumidores.
Christophe Jauquet, trouxe à conferência o conceito que desenvolveu no seu livro Healthusiasm. Na apresentação enunciou as necessidades, pela ordem em que se apresentam atualmente na mente dos consumidores. Em primeiro lugar, estão as necessidades de atualização, aspiracionais; em segundo lugar aparecem as necessidades sociais; apenas no final, aparecem as necessidades básicas e funcionais. Para Christophe Jauquet, as empresas para atingirem o sucesso, devem ter como preocupação o suprimento destas necessidades por esta ordem. O consumidor atual precisa de mais profundidade e conexão com a forma como o produto é desenvolvido e comunicado.
As empresas estão hoje a estudar e a criar novas formas de aplicar a inovação a estes novos hábitos de consumo onde a pirâmide de necessidades se alterou totalmente.